Effective Scrutiny and Challenge
Effective scrutiny and challenge
Processes without intelligent scrutiny and challenge are not enough! In order to ensure that your organisation's key functions are delivered effectively, Board Members need to hold the organisation to account for its performance by offering purposeful and robust challenge and scrutiny. In this half day workshop, attendees will learn about the key pre-requisites to enable effective scrutiny and challenge to take place, the characteristics of effective scrutiny and how to scrutinise in practice.
Who is this workshop for?
This workshop is primarily aimed at Board Members (including the Chair) but it is also highly relevant to Chief Executives and members of Senior Leadership Teams where scrutiny and challenge is important.
How is this workshop delivered?
This workshop will have a practical focus and be highly interactive with a mix of presentation, case studies and group discussion. 75% of the workshop will involve practical application of the learning through case studies. Some pre-course reading is required.
Course Tutor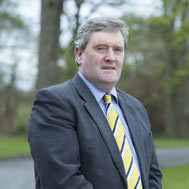 David Nicholl
David has trained more than 700 boards of public sector bodies in Scotland, Wales, England, Northern Ireland and beyond and is widely recognised as the UK and Ireland's leading expert in corporate governance in the public sector.