Finance for Board Members
Finance training for Board Members
Finance can be a complex business and Board Members do not need to understand each and every aspect of their organisation's finances. However, the Board is ultimately responsible for ensuring that the organisation is financially sound and all Board Members are expected to discharge certain key financial responsibilities.
With important decisions being taken by the board around the corporate plan, budgets and risk, this half day course will equip board members with the knowledge and skills to discharge their strategic financial responsibilities.
Who is this course for?
All new and existing Board Members and senior managers who work with the Board
How is this course delivered?
The workshop is delivered by a mix of Powerpoint presentation and case studies/group discussion. Slides are used by the facilitator to set out best practice but most of the workshop involves consideration of case studies and facilitated discussion of practical issues that relate to the financial responsibilities of Board Members. Time will also be spent reviewing a typical set of accounts of a public body
Course Tutor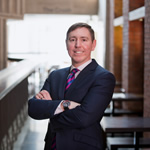 Paul McIlwaine
Paul is a qualified Chartered Accountant with more than 25 years' experience, primarily as Finance Director, with responsibility for all aspects of financial management and governance. He has worked within both the private and public sectors and has been involved at senior management level with a number of growth companies operating in China, Europe and Africa.
Paul is an extremely experienced finance trainer and has delivered training to the Boards of many organisations in the public, private and not-for-profit sectors including the Boards of many Housing Associations.
In 2018, Paul was invited by the Bank of England to join its Decision Maker Panel of Finance Directors, set up to monitor how Brexit is affecting business conditions in different industries across the United Kingdom.